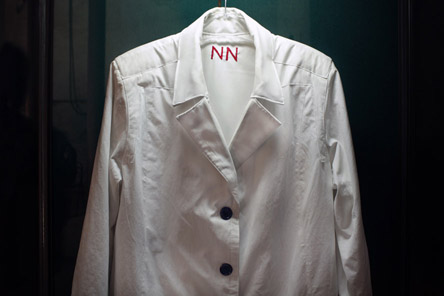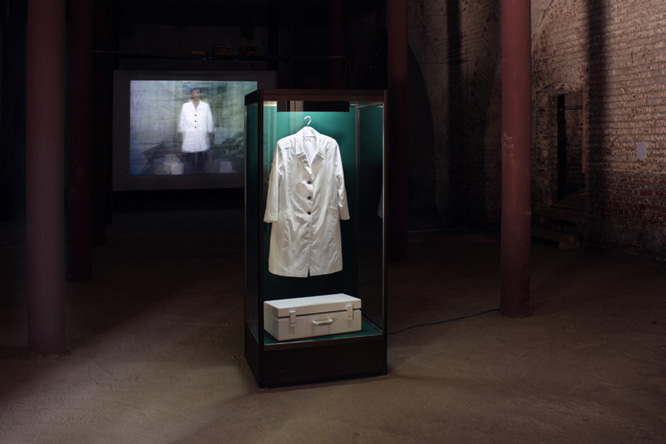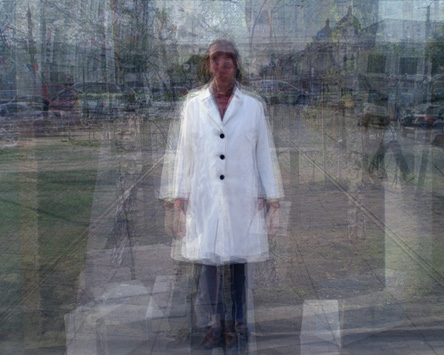 HYPERCOAT NN
National Center for Contemporary Art,
Arsenal/Kremlin, Nishny Novgorod, Russia
2009
"art on site" – a project of
Goethe Institute Moskow and
National Centre of Contemporary Art, Nishny Novgorod
also shown at the 3rd Moskow Biennale 2009


People in Nishny Novgorod have been invited by the artist to make fotos of themselves or others wearing the white coat on sites in the city they like to show. They send these fotos to the artist, who edited a video animation using all these hundreds of fotos. The real coat and the virtual coat (a projection of the video animation) were shown in the Arsenal within the Kremlin.

The white coat in the animation is presented allways in the center of the image and especially the buttons are precisely positioned. All the rest – first of all the city sights in the background but also the persons in the coat – is changing constantly in high speed. The viewer is like mesmerised by the fact that he sees all these places and people of NN nearly all at once. This virtual image of the city is highly condensed, intersubjective and collective.

While the coat was carried and photographed it was a concrete prop of a performance, within the video it works as a point of culmination and redundance.



white coat, white wooden suitcase,
display cabinet of the National Kremlin Museum
video projection on screen (DVD: PAL, stereo, colour, loop)